Wednesday, September 22, 2021 / by Steve Ticknor
Today's real estate market is changing and with the prospect of remote work becoming a permanent policy for businesses,
insights from real estate professionals
predict that people will migrate from the big city to a smaller neighborhood, even if it's in a whole new state!
So what can you do to make the migration process easier for out-of-state buyers or sellers who have moved out of state but still own property in the area? We have 5 tips that can help.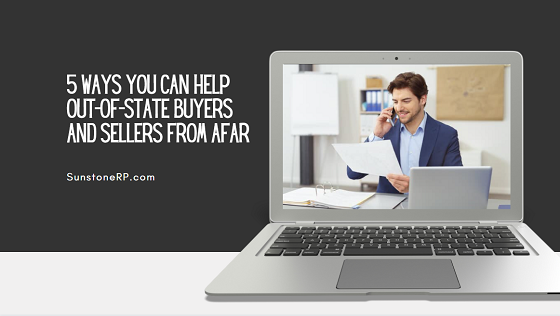 Have a presence online
When someone is trying to
choose a top-rated real estate agent
, the first place they're probably going to look online, so it's really important that you have a solid online presence. Your name may show up in a database for realtors, but you might want to spring for a professionally made website.
On the website, you'll want to include your contact information, testimonials from satisfied clients, your experience and credentials. You may also want to include your active listings, as well as previous listings that have recently settled.
Have a plan for the phone consultation
In most cases, a prospective client will give you a call if they think you'd be someone they'd like to work with (sometimes they'll start communication via email). When they call, you should have a plan in regard to what you'll say on the call.
If the client is a buyer, take note of the things they're looking for in a new home. Ask the buyer about their timeline and how quickly they'd like to move. You'll also want to explain the local market and ask if they need information for local lenders so they can get that pre-approval letter.
If the client is a seller, ask them about the property they want to sell, any upgrades that have been done, and what they want to list the price at. You'll want to go over your marketing strategy for the property, how showings will work, and so on.
Follow up with the potential client after the phone consult
After you speak with the potential client, wait a few days and reach out for a follow up. Ask them if they have any questions or concerns about the process or the neighborhood. You can do this by email, a phone call, or even a text (if the client has text messaging).
Embrace technology
You already have an online presence, but you'll want to use other technologies to help your out-of-state client stay in the loop and get to closing. You'll want to explain how important it is to have (or view) a variety of photos of the property, and walk them through the different programs that will be used to sign documents, to view/show houses, and so on.
Take the time to get to know your client
It's hard to get to know the person you'll be working with when they're in another state. You have to be proactive and really take some time to get to know them. Chat with them on the phone and learn about their life, why they're moving to the state (or why they want to sell), and about their expectations for the outcome of this arrangement.
The more you know about your client, the easier it will be to help them find the house that checks off all of the boxes on their wants list (or get their house sold quickly and for their asking price).
Working with out-of-state clients can be challenging, to be sure, but these tips can help make it easier on you
and
your clients. After all, the name of the game here is to make your clients feel like you'll give them as much time, attention, and care as though you were working with them in person.


Special thanks to our guest writer:
Kelsey Luvisa, Marketing Coordinator, Communications with
HomeLight
.
Sunstone Real Estate Group at Coldwell Banker Realty, Lake Havasu City, AZ
Originally posted on our Lake Havasu real estate blog here: https://www.sunstonerp.com/choosing-a-real-estate-agent-out-of-state/.
---