Saturday, October 21, 2023 / by Steve Ticknor
In my last post, I wrote about the Nellie E Saloon, more commonly referred to as the Desert Bar, located in Parker, AZ. So, it only makes sense to talk about that other not-so-secret, out-of-the-way drinking hole that locals like to trek to during the cooler months of the year...the Bunker Bar. It also opened up earlier this month and calls the desert land surrounding Lake Havasu its home. But it offers a slightly different aesthetic than its desert cousin.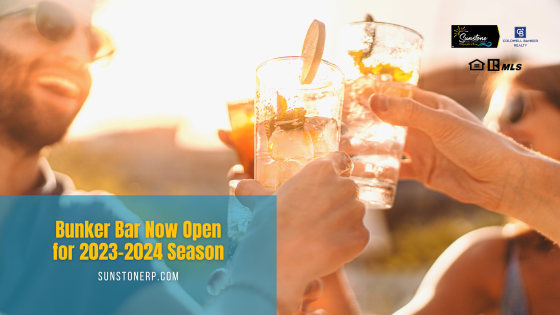 What:
The Bunker Bar
Where:
6942 N Thirsty Lizard Rd, Lake Havasu City
When:
Fridays through Sundays, October through April
Contact:
(928) 854-8793
The Bunker Bar
The bar's 2023/2024 season is now officially open for business. They open from noon to 5 pm on Fridays and 11 am to 5 pm on Saturdays and Sundays. The only days they stay closed are on Christmas Eve (when it falls on a weekend), Superbowl Sunday, and Easter Sunday. Plus, you get to enjoy live music every single weekend!
They also have a food truck on-site that serves up a wider variety of delicious food to all visitors. Their BBQ tri-tip and chipotle chicken sandwiches are to die for! They also offer up Philly cheesesteak, chicken cheesesteak, Pastrami, and pulled pork. Want something a little more "exotic"? Try a gyro. Of course, they also provide burgers, hot dogs, and even pretzels with cheese sauce. All of it is absolutely delicious. Wash tht all down with water, a soda, a root beer float, an ice-cold beer or a delicious cocktail (margarita anyone?). Of course, you must be at least 21 years old to purchase and/or drink any alcoholic beverages. No ID? No alcohol. Unlike The Desert Bar, these guys accept cash AND credit cards! But you must make a $10 minimum purchase to use your card.
How to Get There
Talk about "off the beaten path". The best way to find this bar is to plug in the coordinates into your GPS system. (For the record, that is 34°37'54.7"N 114°17'49.5"W or 34.631849, -114.297081.) From Lake Havasu City, travel north along US 95. Exit the highway at Havasu Heights Rd on the right. Roughly 150 feet from that entry onto Havasu Heights Rd, you'll come across Thirsty Lizard Rd. Turn right and travel about two and a half miles. That's where you'll find the Bunker Bar.
Sunstone Real Estate Group at Coldwell Banker Realty, Lake Havasu City, AZ
---