Sunday, October 8, 2023 / by Steve Ticknor
While summer officially ended last month, the fun continues in and around Lake Havasu City. How? With the opening of a family-friendly bar that only those with access to an offroad vehicle get to enjoy. That's right! The Desert Bar is officially open for the 2023/2024 season.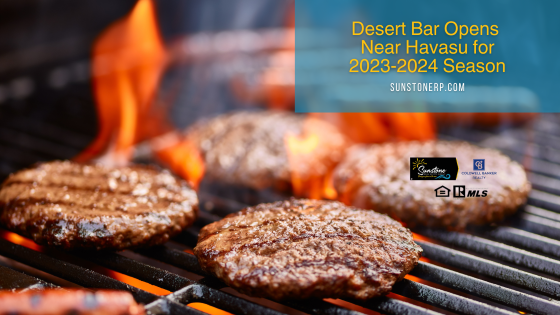 What:
The Desert Bar
Where:
Cienega Springs Rd, Parker, AZ
When:
Sat & Sun, 12 pm to 6 pm, October 2023 to April 2024
The Desert Bar Now Open for 2023/2024 Season
One of the worst-kept secrets in the Lake Havasu area, the Nellie E Saloon (aka "The Desert Bar") appeals to the adventurer in us all. They serve burgers and hot dogs fired up on the grill. Bottled water, soda, and canned beer are also available for sale. Since the bar operates on solar power and due to its very remote location, it only stays open on Saturdays and Sundays from 12 pm to 6 pm. The one exception to this rule is New Year's Eve...but only if it happens to fall on the weekend. Fortunately, it falls on a Sunday this year. So, the bar will be open well past its usual 6 pm curfew on that day only. Also, make sure you bring cash with you. No cards allowed (and the includes debit cards). Kids and pets are welcome.
Every weekend features a different band playing live. To find out who plays the weekend you want to be there, just check their Facebook page. They usually post the weekend's lineup during the week.
How to Get There
From Parker, you must take State Route 95 N to Cienega Springs Rd (approximately five miles outside of Parker) and turn right. Then, travel approximately five miles further until you come across the bar. Once you leave the highway, you travel on an unpaved, unmaintained road. While you might make it in a regular sedan, it is highly recommended that you travel in a vehicle with 4-wheel drive for more comfort. Low-profile vehicles will have a very bumpy ride with many chances of bottoming out. Some visitors take this opportunity to take their ATV, UTV, buggy, sandrail, motocross bike, or other offroad vehicle out for a spin.
Sunstone Real Estate Group at Coldwell Banker Realty, Lake Havasu City, AZ
---