Sunday, August 6, 2023 / by Steve Ticknor
In this blog, we've discussed
FHA loans
and conventional loans. We've also talked about
adjustable-rate loans
. So it made sense for us to tell you about the pros and cons of a fixed-rate mortgage as well.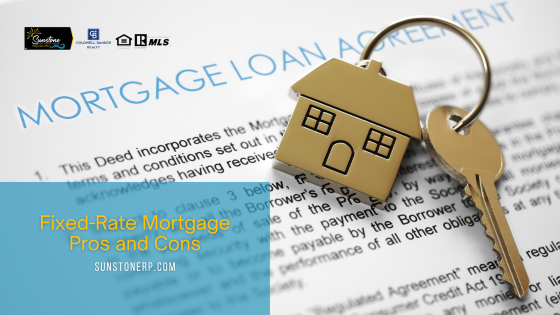 Fixed-Rate Mortgage Pros and Cons
What is a Fixed-Rate Mortgage?
The best place to start is probably to explain what exactly a fixed-rate mortgage entails. Well, as the name implies, the mortgage rate remains the same throughout the entire life of the loan. If you paid any kind of attention to the real estate market over the past few years, you saw mortgage rates go up and come down and then go back up again. In November 1981,
mortgage rates for 30-year fixed-rate loans hit their apex at 18.39%
over the last 50+ years. After the bubble burst in 2008, rates began to plummet. By the end of 2020, they hit their lowest point of 2.67%. Currently, we see them settling in at just under 7%, according to
Freddie Mac
. Someone who locked in their rate at 2.67 in December 2020 pays a lot less in interest than someone taking out a mortgage at 6.9% today.
Fixed-Rate Pros
One of the biggest positive aspects of a fixed-rate loan is that your rate never changes. Yes, things like property taxes and insurance may alter your monthly payment from year-to-year. But the actual mortgage payment (principal plus interest) never wavers. That may help make budgeting for your mortgage a little easier. Also, they come with no pre-payment penalty. If you plan on living in your Havasu home for a while, a fixed rate works out better in the long run due to how it is structured.
Fixed-Rate Cons
While the pros are great, you also need to weigh the cons. For example, fixed-rate mortgage loans tend to come at a higher rate than an adjustable-rate mortgage (ARM). At least, this is the case in the beginning. Over time, that ARM may outpace the fixed-rate loan. However, that may take several years to happen. Since the rate tends to be higher, you need to qualify for that higher payment. Typically, that means a higher down payment, more income, a higher credit score, a lower debt-to-income ratio, or any combination of these. That might make it more difficult for a home buyer. If you only plan on living in your home for a couple of years, it might make more sense to go with an adjustable-rate mortgage.
Before you decide whether to go with an adjustable-rate mortgage or a fixed-rate loan, talk to your lender. Ask them any questions you can think of about both types of mortgage loans. Then, once you have all the information, you can decide which option works best for your situation. After that,
contact us
to help you find your next Lake Havasu home.
Sunstone Real Estate Group at Coldwell Banker Realty, Lake Havasu City, AZ
---