Sunday, May 21, 2023 / by Steve Ticknor
Millions of people visit our little town every year. As you can imagine, the lake gets pretty busy...especially during the summer. A fun alternative to navigating the traffic you find at our launch ramps is the Havasu Aquatic Center. While some people pay per visit, you might want to take advantage of their open swim passes...especially if you plan on visiting on a regular basis this summer.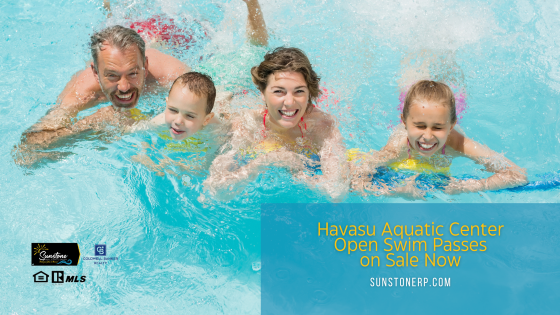 Havasu Aquatic Center Open Swim Passes
Open swim for adults runs $6 per session. For kids ages 4 to 17 (and seniors), you pay $5 per session. (Kids ages 3 and under get in for free with a paid adult.) But, the open swim pass allows you unlimited sessions for kids for just $40. However, this open swim pass only lasts between May 30th and July 30th, 2023. So, if you plan on making the aquatic center your destination of choice throughout this summer, it may be well worth your while to invest in an open swim pass for your kids.
Other Things to Do at the Aquatic Center
The Aquatic Center also offers swim classes Mondays through Thursdays. These classes range from "Frogs" (six months to 18 months) all the way up to "Starfish" (5 to 9 years old). When so much of the Havasu lifestyle depends on water-related activities, it makes sense to get your children ready for and comfortable in and around water from an early age. Plus,
drowning is the leading cause of death for kids between the ages of one to four and ranks #2 for kids ages five to 14
. So, the sooner they learn to swim, the better.
Water exercises provide a fantastic chance to work on your fitness no matter what your physical limitations may be. The Aquatic Center offers classes in aqua aerobics, tai-chi, ai-chi, cardio, yoga, and more. Skill levels vary from beginner to advanced. So, there is an exercise class available for everyone to try out.
Aquatic Center Hours of Operation
During June and July, open swim hours take place between 12 pm and 4 pm every Monday, Wednesday, Friday, Saturday, and Sunday. Swim lesson sessions take place between 5 pm and 7 pm daily. Swim League practice sessions take place between 5 pm and 7 pm every Monday through Thursday from June 5th to July 14th.
Sunstone Real Estate Group at Coldwell Banker Realty, Lake Havasu City, AZ
---