Thursday, October 21, 2021 / by Steve Ticknor
In just 10 days, we celebrate Halloween. (Don't forget about the
Pumpkin Festival
this weekend at Springberg McAndrew Park.) After you recover from your Halloween candy coma, you might want to eat something a little more substantial. Havasu restaurants offer a wide variety of tasty selections to choose from. But, the Havasu Food Truck Festival brings the best of the best in savory and sweet cuisine to one place for you to enjoy.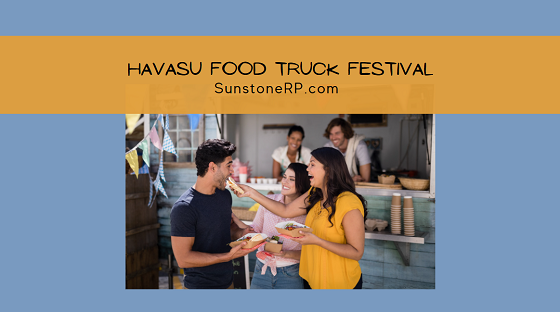 What: Havasu Food Truck Festival
Where: Querio Park (Quiero & McCulloch)
When: Saturday, November 6th, 2021 from 11 am to 4 pm
Admission: FREE
Contact: Stephanie Martin via email
Havasu Food Truck Festival
Food truck fare has come a long way since its humble beginnings of greasy fast food. Nowadays, some of the best chefs can be found cooking inside these mini-restaurants on wheels. From 11 am to 4 pm on Saturday, November 6th, five of the best food trucks in Lake Havasu come to Querio Park to feed everyone who shows up. Plus, for the adults, a beer garden pares well with anything the food trucks offer thanks to College Street Brewhouse and Mardshark Brewing.
But food provides only one element to the Food Truck Festival. The
Lake Havasu Chamber of Commerce
planned a whole afternoon of entertainment for the entire family. Play fun lawn games. Several kid-friendly activities are scheduled for the afternoon, including a bounce house. (What kid doesn't love a bounce house?) While all this takes place, DJ Azteca provides the musical entertainment for the afternoon. This is something that the entire family can enjoy together.
Festival Food Trucks
Cardinalli BBQ
The Mustard Seed
La Carcacha
Primo's Tacos
Sweet Breeze Crepes, Coffee & More
Great food. Great entertainment. And an afternoon of free family fun. Who could ask for more?

Sunstone Real Estate Group at Coldwell Banker Realty, Lake Havasu City, AZ
Originally posted on our Lake Havasu real estate blog here: https://www.sunstonerp.com/havasu-food-truck-festival-nov-2021/.
---