Thursday, February 25, 2021 / by Steve Ticknor
Do you own a home in Lake Havasu? Do you struggle to make ends meet each month? Does your property need repairs due to safety concerns but you cannot afford to make them? The City of Lake Havasu wants to help. So, they created the
Community Development Block Grant (CDBG) Program
for low-income Havasu homeowners.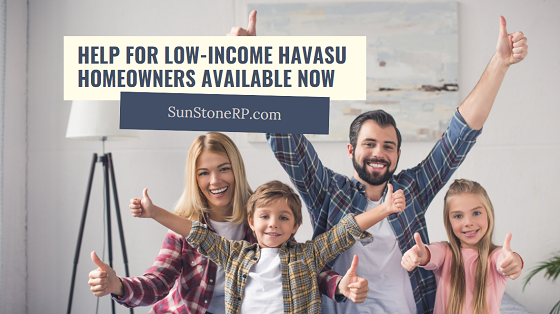 Help for Low-Income Havasu Homeowners Available Now
What is the Community Development Block Grant (CDBG) Program?
The CDBG program provides funds to Havasu homeowners to complete health and safety-related repairs to their properties. Applicants must meet certain income requirements and other conditions in order to qualify. These repairs include things like weatherizing, replacing an old air conditioning unit, or making repairs/replacing an old roof.
CDBG Requirements
All Havasu homeowners who meet the following requirements may be added to the current waiting list:
Household income must fall below guidelines (see below).
Property exists inside the Lake Havasu City limits.
Applicant must own and reside on the property.
Mortgage payment, property taxes, sewer, and water accounts must all be current.
Applicant must have current homeowner's insurance for the property.
Title cannot be held in a trust.
Household Income Limitations
The total household income per applicant cannot exceed the following in order for Havasu homeowners to qualify for the CDBG Program:
1 person - $31,200
2 people - $34,560
3 people - $40,100
4 people - $44,550
5 people - $48,150
6 people - $51,700
7 people - $55,250
Where to Apply
Havasu homeowners may pick up their CDBG applications in person at Lake Havasu City Hall during normal business hours (8 am to 5 pm, Monday through Friday). Or you may
download your application here
. Fill it out and either mail it in or drop it off at the City Hall offices during normal business hours. Contact Grants Administrator Holly Morin at (928) 854-0711 or
via email
with any questions.
Sunstone Realty Professionals, Coldwell Banker Residential Brokerage, Lake Havasu City, AZ
Originally posted on my Lake Havasu real estate blog here:
http://www.sunstonerp.com/havasu-homeowners-assistance-cdbg/
.
---