Thursday, November 3, 2022 / by Steve Ticknor
It's November. Can you believe it? Where has the year gone? Seems like only yesterday that we welcomed in the new year. In a few short weeks, we welcome in a new one. Many people love to decorate for the end-of-year holidays. But if you plan on putting your Havasu home on the market right now, should you hold off on putting up a tree this year? Short answer? No. However, you do need to show some restraint. Use these helpful home selling tips when you list your property during the holidays.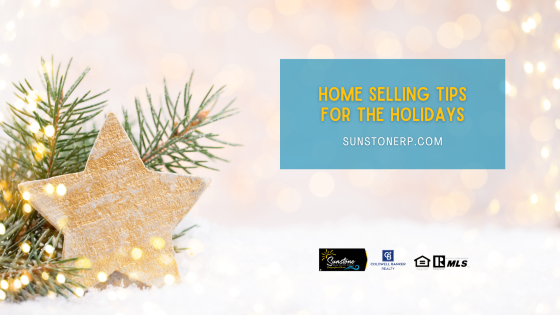 Home Selling Tips for the Holidays
Keep it Simple, Silly
If lots of silver and gold accessories and over-the-top decorations are your "normal", tone it down this year. Instead of loud and garish, keep things simple. Emphasize nature with pinecones, fruit, gourds, and a pretty fir garland draped over the mantel. A bit of silver and gold should act as accent pieces instead of the main focus. Just keep them to a minimum (three to five per large room). Also, instead of a huge seven-foot Douglas fir Christmas tree,
opt for a smaller pencil tree
with a simple strand of white lights and only a few decorations on it. This takes up much less valuable square footage than a traditional fuller tree. Always make sure that the decorations do not detract from the great features your home has to offer.
Holiday Curb Appeal
Next up for my home selling tips during the holidays? Your curb appeal. Leave the giant blow-up yard decorations in storage this year. Curb appeal should always be a part of your
pre-list checklist
. But during the holidays, this matters even more. Feel free to add a string of lights along your roofline. A nice wreath feels welcoming any time of year. Always keep walkways and entryways clear of clutter and overgrowth.
Get Professionals Photos
Most
home buyers turn to the internet
at some point during the search. You need to make a good first impression. Dark cameraphone photos are not good enough. Professional photographers know how to use light, angles, and editing to make your home look its best. However, it works best in your favor if photos are taken
before
you decorate for the holidays but after you've
staged it to sell
.
Price Matters
Finally, to get buyers through the front door, you need to price it correctly. That means keeping current market conditions in mind when deciding on a list price.
Your real estate agent
can help you determine an appropriate list price.
Sunstone Real Estate Group at Coldwell Banker Realty, Lake Havasu City, AZ
Originally posted on our Lake Havasu area real estate blog here: https://www.sunstonerp.com/home-selling-tips-for-the-holidays/.
---