Friday, September 24, 2021 / by Steve Ticknor
On October 10th, 1971, the London Bridge officially opened up to the public. Every October, we celebrate this landmark that set us on the map with London Bridge Days. This year marks the 50th anniversary of the bridge's dedication. One of the activities held to celebrate London Bridge's milestone birthday is Lake Havasu Battles and Brews 2021.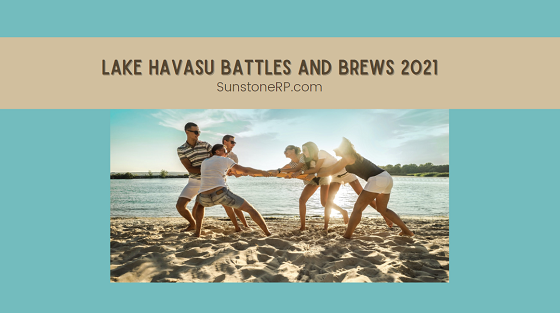 What: Lake Havasu Battles and Brews 2021
Where: London Bridge Beach
When: Thursday, October 7th, 5 pm to 9 pm
Contact: Lake Havasu Hospitality Association (928) 577-7873 or via email
Lake Havasu Battles and Brews 2021
Come watch local businesses and organizations participate in a friendly tug-of-war at London Bridge Beach on the evening of Thursday, October 7th. In addition, other teams compete in a pancake race. Yes. You read that right. A pancake race! These competitions are meant to be fun ways for these groups to market themselves to the public in a fun, silly way. Plus, it helps raise money for the Lake Havasu Hospitality Association's philanthropic efforts. But they need your encouragement to push them on to a win.
Spectators Wanted
The participants are not the only ones having fun. Grab a bite to eat from one of the food trucks on-site. And with "brews" in the name, you know they offer beer. Of course, you must be at least 21 years old to buy and consume beer. And please make sure you bring a valid photo ID. Otherwise, no dice on the brewskis. Also, a group from our local high school plans on selling water at the event. No one goes thirsty here.
Organizers want everyone to enjoy themselves. So, they welcome children to the Lake Havasu Battles and Brews event with some kid-friendly activities scheduled for the evening. Commemorate the evening with a group photo of your peeps at the official photo station. Sounds like a fantastic way to spend a Thursday evening with the family, don't you think?
Sunstone Real Estate Group at Coldwell Banker Realty, Lake Havasu City, AZ
Originally posted on our Lake Havasu real estate blog here: https://www.sunstonerp.com/lake-havasu-battles-and-brews-2021/.
---