Thursday, October 6, 2022 / by Steve Ticknor
October marks the start of the final quarter of the year. Can you believe it? We're nearing the end of the year already. Where does the time go?! Fortunately, that means that it's time for all of the great end-of-year celebrations. Halloween takes place in just over three weeks. But before that happens, bring the family for some Halloween-themed entertainment at the Lake Havasu Fall Fun Fair.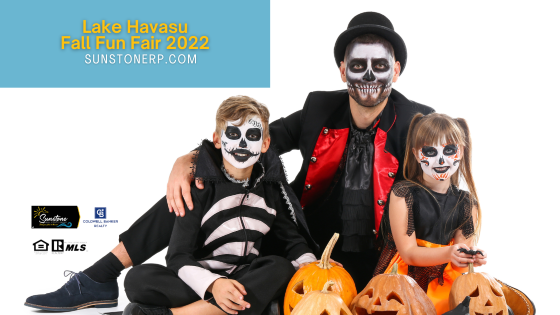 What: Fall Fun Fair 2022
Where: Rotary Community Park (1400 Smoketree Ave)
When: Saturday, October 15th, 3 pm to 8 pm
Admission: Free
Contact: Lake Havasu City Parks & Rec Dept
Lake Havasu Fall Fun Fair 2022
You put a lot of time and effort into deciding what to wear for Halloween. So, why limit yourself to wearing it just one night of the year? The Lake Havasu Parks and Recreation Department hosts its annual Fall Fun Fair on Saturday, October 15th. Dress up in your favorite costumes. Coordinate with your family, friends, or group. Or just create something completely unique and original. Use your imagination and go as wild and crazy as you want. Then, head over to the Rotary Park ballfields for an afternoon of family-friendly fun.
Organizers set up tons of Halloween-themed games and activities for all ages to enjoy. When you get hungry, visit one of the food vendors on-site. Local businesses and organizations will also be on hand providing helpful information about what they do and how they can help you.
It costs nothing to attend the fair. However, game tickets cost $0.25 each. Money raised from the fair benefits local Havasu non-profit organizations. As a bonus, the first 2000 children that come to the fair receive a special bag filled with treats (not tricks). Children must be accompanied by an adult, though. So dress up. Show up early. Have fun. It really is as simple as that.
Sunstone Real Estate Group at Coldwell Banker Realty, Lake Havasu City, AZ
Originally posted on our Lake Havasu area real estate blog here: https://www.sunstonerp.com/lake-havasu-fall-fun-fair-2022/.
---