Sunday, November 12, 2023 / by Steve Ticknor
Thanksgiving may still be a week away, but it's never too early to start thinking about shopping for Christmas...especially if you are the one you're shopping for. And if updating your big boy toys to something new tops your Christmas list, then you need to make a trip to the 2023 Lake Havasu Sand Water and RV Expo this weekend!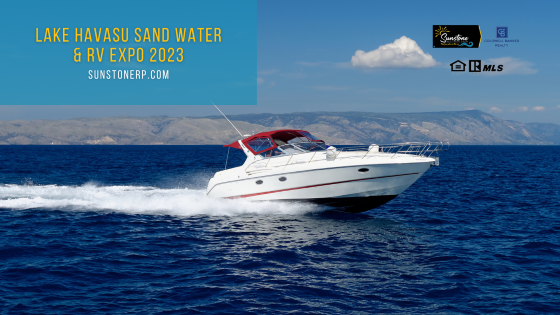 What: Lake Havasu Sand Water and RV Expo 2023
Where: Lake Havasu State Park, Windsor 4
When: November 17th (11 am to 5 pm) and 18th (9 am to 5 pm)
Admission: $8 per adult, FREE for kids ages six and under
Contact: Darrin Davidson, Event Organizer (928) 486-7393 or via email
Lake Havasu Sand Water and RV Expo 2023
Calling all water babies, sand dawgs, glampers, and everyone in between. The temperatures may be cooling off but the deals on outdoor toys are just starting to heat up. Manufacturers from all over the southwest area come to Lake Havasu in the fall every year to showcase the latest and greatest in outdoor vehicles, gear, and more.
For the river rats, take your first peek at the new 2024 models of air boats, bass boats, Cuddy cabins, bowriders, sailboats, catamarans, fishing boats, jet skis, and more. Land lovers need to check out the ATVs, UTVs, sandrails, 4x4, and other offroad vehicles. Not to be outdone, anyone who enjoys a weekend (or more) away from the hustle and bustle of everyday life may enjoy a trip to the expo as well. They offer something for everyone, whether you enjoy roughing it in a pup tent or would rather glamp your time away in a $100,000+ Thor or Coachmen. Happy with your current toys? Check out the newest safety gear and accessories to enhance any ride you own. And many manufacturers offer specials only available during the expo. Yet another incentive to get yourself to Lake Havasu State Park this weekend!
Poker Time
In addition to the big boy toys, organizers put together a poker game for attendees. It costs nothing to join. However, you may end up winning some fun prizes if you participate. Simply head over to Danny's Marketplace (located next to the admission area) and say "sign me up!".
Sunstone Real Estate Group at Coldwell Banker Realty, Lake Havasu City, AZ
---