Thursday, August 25, 2022 / by Steve Ticknor
Thinking about selling your Havasu home soon? To obtain the most money and the quickest sale, you may need to perform a few necessary tasks first. This helpful pre-list checklist should help you concentrate your efforts where they are needed most.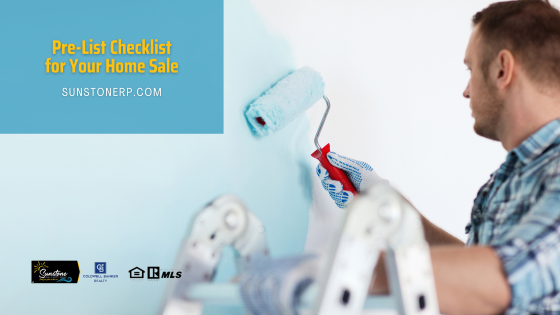 Pre-List Checklist for Your Home Sale
Update and Repair
Most of today's homebuyers want to see turn-key-ready homes instead of fixer-uppers. With
Havasu home prices at an all-time high
, who can blame them?
Make those repairs
you put off taking care of now. That includes even the little things like squeaky hinges, loose doorknobs, and burnt-out lightbulbs. (Yes, buyers look at
everything
.) Replace old appliances with newer, more energy-efficient models. Reface and/or paint outdated cabinets and add new hardware to them. Update plumbing and lighting fixtures for a fresher look at a lower cost. Get rid of that ratty old carpeting and replace it with beautiful hardwood. Buyers love to see wood floors in the main living spaces rather than carpet. That could net you more money at the close of sale.
Clean It and Clear It
The next items on your pre-list checklist should be to clean and declutter/depersonalize your Havasu home. Pack up any personal items (photos, momentos, etc.). Pack away one-half to two-thirds of your clothing and linens to make your closets look bigger. Get the kids involved by having them pick their five or six favorite toys and packing up the rest. Donate (gently used) or trash (beyond repair) all of those items that you no longer use but never got around to getting rid of yet. Buyers want to see what your house has to offer, not how much stuff you own. As a bonus, this helps you
get ready for your move
as well. Then, clean, clean, clean every surface of your home once you pack up your extras. That includes windows, floors, baseboards, countertops, sinks, showers, etc.
Let the Light In
Dirty windows make a room feel dark and dingy. Let the light shine in by cleaning them until they sparkle. This includes the window's tracks. So many sellers forget to clean here, too. But buyers notice the dirt and dust build-up. So, cleaning them helps your home look better than your competition's right away. Also, make sure all windows open and close easily. Consider replacing windows that appear fogged up all the time. Most likely, this is due to a break or crack in the outside of inner pane of the window that allows moisture to seep in. Finally, repair torn screens.
Don't Forget the Exterior
Cut back overgrown brush or trees. Or, if necessary, remove them altogether. Make sure the pathway to the front door is clear and easily accessible. Stash your trash bins on the side of the house. Store toys and tools away neatly. (Buyers look in garages, too.)
Make a Plan for What's Next
That last item on your pre-list checklist is actually to make a plan for what's next. Check out the rental market as well as homes for sale. You may find yourself renting a place for a little while until you find a property you like. It helps to know what to expect in terms of availability and cost so you can budget accordingly. When you decide to put your Havasu home on the market,
contact us
. We're always ready to help.
Sunstone Real Estate Group at Coldwell Banker Realty, Lake Havasu City, AZ
Originally posted on our Lake Havasu area real estate blog here: https://www.sunstonerp.com/pre-list-checklist-home-selling/.
---