Thursday, October 28, 2021 / by Steve Ticknor
Sellers want to make their homes look their best. In doing so, they may use smoke and mirrors to mask problems from potential buyers. Whether you look at new construction or older homes, first-time buyers as well as seasoned home buyers need to keep an eye out for these warning signs when buying a Havasu home.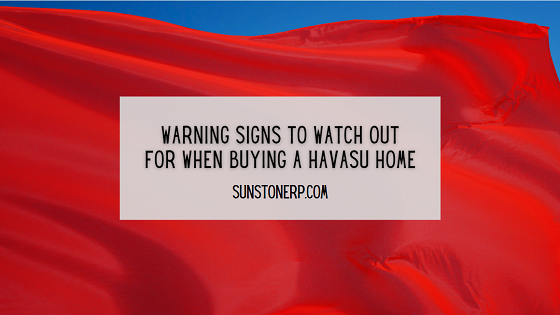 Warning Signs for the Home Buyer
Heavy Scents
Scents can help sell homes (think about the smell of baking cookies or spices boiling on the stove). But, if you see candles, wax warmers, and plug-ins in every room giving off a heavy scent, these could be warning signs that the seller wants to cover up some nasty smells. And those smells will be there for you to deal with once you take ownership of the property.
Bad Tiling Job
Check out the backsplash and tiles in the kitchen and bathroom. Look for crooked, uneven, or wide gaps in between tiles. In new construction, this may indicate poor craftsmanship. In existing homes, it could mean a bad DIY job. And that may mean spending a big chunk of change to fix the tile and any other issues that may lie beneath them later on.
Foundation Concerns
Fact:
all houses settle. So, you may see hairline cracks here and there. But, larger cracks reveal potential, serious problems with the foundation. Other warning signs to look for: windows or doors that stick, cracks above the window frames, and uneven floors. Open and close the windows and doors when you tour the Havasu home. An easy way to check the floors is to roll a marble across them. Marbles are small enough to place in your pocket and easy to use when needed.
Mold
No one wants to deal with black mold. It wreaks havoc with your health and is expensive to remove. But even regular mold could mean water damage or a problem with ventilation. In turn, that may translate into thousands of dollars to fix. Open up the cabinets underneath the sinks in the house (kitchen, bathrooms, wet bar, etc.). Look for black or gray spots (big and small). All of it can be a problem.
Home Staging
Now, home staging in and of itself does not mean that there is a problem. Fresh paint could mean that the homeowner wanted to neutralize or brighten the look of a room. Or they used it to hide mold or water stains. An area rug might really "pull a room together". Or it might hide pet stains underneath. Look under the rugs and behind furniture (when possible) to check for any warning signs of more serious problems.
Even if you find warning signs, that does not mean that you should give this Havasu home a pass. There are ways to negotiate the repairs into a sales contract if you really have your heart set on the place.
Contact the Sunstone Real Estate Group
when you decide to look for your next Lake Havasu property.
Sunstone Real Estate Group at Coldwell Banker Realty, Lake Havasu City, AZ
Originally posted on my Lake Havasu area real estate blog here: https://www.sunstonerp.com/warning-signs-home-buyers/.
---