Thursday, November 18, 2021 / by Steve Ticknor
Buying a home while simultaneously trying to sell your home sometimes comes down to timing. In a seller's market (
like here in Lake Havasu
), you may sell your home quickly. But finding a new home among the limited inventory available may take a little time. Plus, you might need to use the equity from your Havasu home sale to purchase a new property. In that case, you might want to include a rent-back agreement in your sales contract.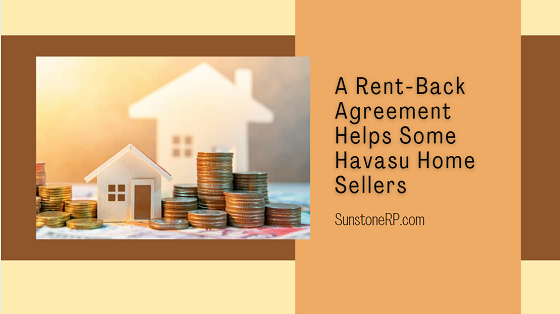 How a Rent-Back Agreement Can Help a Home Seller
What Is It?
A rent-back agreement is exactly what it sounds like. This agreement allows the seller to rent the home from the new owner for a specified period of time and amount of money per month. It also allows the seller to stay in the home while they
look for a new one
. Plus, it avoids the hassle of moving twice: into a rental property when you sell and then into your new home when you buy. Instead of finding a temporary home while you look for a new one, you pay the new owner a monthly fee (plus a deposit, if requested) to stay in your current residence.
Since this agreement includes a timeframe, you are still up against the clock to find a new home. Typically, these agreements only last for about 30 to 60 days. However, you may be able to negotiate a longer time frame if needed. At the end of the agreement, you must move out whether or not you purchased a new property. So, make sure you start looking right away. (
Contact us
. We can help.)
How This Helps the Buyer
Why would a buyer agree to a rent-back? Well, it might be just the thing to push their offer ahead of the others. Buyers with a flexible move-in schedule might be more amenable to this arrangement. Plus, the money received in rent could help them cover their mortgage costs until they move in. But, they also run the risk of the seller refusing to move out at the end of the agreement. While rare, this does sometimes happen.
If you have any questions about rent-back agreements or want to list your property on the Havasu real estate market,
contact us
. We would love to hear from you.
Sunstone Real Estate Group at Coldwell Banker Realty, Lake Havasu City, AZ
Originally posted on our Lake Havasu real estate blog here: https://www.sunstonerp.com/rent-back-agreement-home-sellers/.
---